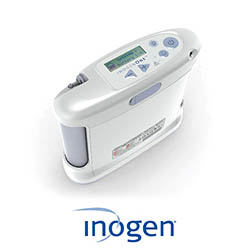 Get free quote Enter your details below
Mediniq Healthcare Pvt Ltd is providing you with the latest and best medical equipment from the world's trusted brand. We have multibrand in one company with round the clock services; we also provide discounts on the medical equipments. We are well known for providing the Oxygen Concentrator Battery Operated; we are an authorised dealer of the world class brands of oxygen concentrators like DeVilbiss, Philips, Inogen, AirSep available for sale, rent and trail purpose. We have a professional team of Doctors, Nurses, Bio-medical Engineers and MBA's to fulfil the needs of the customers.
The Oxygen Concentrator is a medical device which is used to deliver the oxygen to those who need it. People may need it if they have any breathing problem that causes or results in low levels of oxygen in their blood. These oxygen concentrators are normally obtained via the prescription of doctors and hence cannot be purchased just like that. The Oxygen Concentrator Battery Operated is powered by plugging into the electrical outlet or by the use of the battery. If the oxygen concentrator is powered by an electric battery, then that battery will need to be charged by plugging into an electrical socket outlet. Many parts make up a concentrator; it includes a sieve bed filter, circuit boards and a compressor.
Features of oxygen concentrator battery operated:
New dark matter shading

It has enhanced sound level decrease

Front name with the simple to peruse pictograms

With 2 section case plan

With 3 years guarantee as standard (even a discretionary expanded 2 years guarantee bundle is likewise accessible)

The Visual and perceptible alerts for the low oxygen levels, control disappointment, the weight drop and administration required

The smart power administration framework uses the Turn-Down Technology by giving the less power utilization beneath the stream rates of 2.5 l/min

OSD® With Sensor for the ceaselessly checking oxygen levels

Oxygen outlet which is joining a fire security connector

The Reduced bundling: lessening of materials and waste, and in addition the transportation costs and the outflows – without bargaining the item insurance
What to Look for an Oxygen Concentrator Battery Operated?
Oxygen concentrators are becoming quieter, portable, more energy-efficient and very less expensive every day. But you should know what to look for in a battery operated oxygen concentrator and you should know which one is right for you in the given so many choices, The following lists are few of the most important things to consider:
Battery Life of Oxygen Concentrator Battery Operated:
By a long shot, a standout amongst essential parts of a versatile, individual oxygen concentrator is the time it enables you to be portable, as it keeps running on a rechargeable battery. Be that as it may, knowing the promoted battery life of a specific oxygen concentrator battery operated is insufficient; makers for the most part publicize the battery life steady with the least conceivable setting. You should consider how much battery life you'll have when utilizing the OC at the oxygen setting you require. For instance, if the producer's promoted battery life is 4 hours on a heartbeat dosage setting of 2, it may be just 3 hours on a heartbeat measurements setting of 3. This is critical to see, particularly on the off chance that you lead a dynamic way of life and appreciate doing things far from home. Some OCs, similar to the Inogen One G3, give you the alternative of acquiring a twofold battery. This furnishes you with up to 9 hours of battery time (at stream setting 1) rather than the standard 4.5 hours with the single battery.
Pulse Dose vs Continuous Flow of Oxygen Concentrator Battery Operated:
There are two principle sorts of OCs accessible: constant stream and heartbeat dosage. Which you pick will rely on your oxygen needs and individual inclination. Ceaseless stream OCs convey oxygen constantly, in an indistinguishable way from a locally established oxygen framework. This implies notwithstanding when you're not breathing in, the oxygen is as yet streaming. On the off chance that you require in the vicinity of 2 and 5 liters of oxygen for each moment, you plan to utilize your OC while dozing or you have to associate your gadget to a BiPAP or CPAP machine, a nonstop stream gadget would presumably be a superior decision for you. Heartbeat measurement OCs convey oxygen discontinuously, just when the client breathes in. These sort of OCs are by and large prescribed for individuals who have low oxygen prerequisites requiring up to 2 liters for each moment. Your social insurance supplier can enable you to pick which OC to pick in light of your condition and individual needs.
Size and Weight of Unit of Oxygen Concentrator Battery Operated
Considering that you're buying aanOC on the grounds that you would prefer not to be secured to a locally situated Oxygen Concentrator Battery Operated, the size and weight of the gadget, including the unit's battery and embellishments, are most likely essential to you. Since constant stream gadgets can meet a more extensive scope of oxygen requests, they're for the most part greater and heavier than beat dosage oxygen concentrators weighing, by and large, around 18 pounds (excluding embellishments). These units for the most part accompanied a truck that you can pull close by you when you're up and about. Heartbeat dosage units are regularly little and lightweight with some weighing under 5 pounds. These units are so light and minimal they can be effectively conveyed and frequently accompanied a convenient conveying case that you can strap over your shoulder or a lightweight rucksack for convenience.
Oxygen Concentrator Battery Operated: