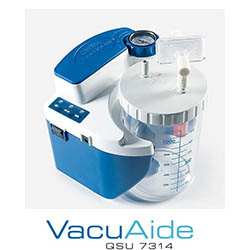 VacuAide Portable Suction Unit
The VacuAide QSU(Quiet Suction Unit) is designed to perform effective airways suctioning in a comfortable, safe and hygenic way. The VacuAide suction units are designed to fit the active lifestyles of today's customers.
Features
High performance capabilities
Compete with 100-240V Power supply & 12V DC adapter
Upto 60 minutes internal battery runtime
Multi voltage switch mode power supply
Built to comply with the ISO 10079-1 std
Specifications
Dimensions of QSU Suction Unit
(H x W x D): 21.1 x 20.3 x 21.6 cm
Weight of QSU Suction Unit  3Kg
Operating sound level: 55dBA
Vacuum range : 50 – 550 mmHg
Air Flow : 27 l/min
Send Enquiry
Description
VacuAide Portable Suction Unit
The VacuAide suction unit is a small and lightweight portable aspirator with the critical safety and performance advantages. The VacuAide portable suction unit is the smallest and the strongest suction unit of its kind, while featuring a convenient carrying bag that provides the discrete suction on the go. The VacuAide portable suction unit is an ideal for home or hospital use and meets the stringent ISO 10079-1 standards for the emergency transport suction. It can also be used from its internal battery or directly from the power supply.
VacuAide portable suction unit highlights:
High performance capabilities with a vacuum range of 80– 550 mmHg and a flow range of 0 – 27 l /min

Meets the stringent ISO 10079-1 standard

Comes complete with a rechargeable battery, 12 V DC in car charger, mains lead and carry case

Switch mode power supply allows operation on any AC voltage 100V– 240V

Two bottle options available – 800ml disposable collection bottle or 1200ml re-usable bottle

Battery fully charges in 10 –17 hours and runs for 60 minutes

Automatically recharges when connected to the power supply

Dimensions (H x W x D) : 22.9 x 17.8 x 20.3 cm

Weight: 2.9 kg

Air flow: 27 l/min

Vacuum Range: 80– 550 mmHg
2 year warranty on the suction unit, 90 day warranty on the battery

12 V DC capability for vehicle charging

Easy to replace bacterial filter

Automatic float shut-off to prevent overflow into the unit
Specification of VacuAide portable suction unit:
Dimensions: 7.25″H x 7.25″W x 6.75″D
Suction Unit Weight: 3.37 lbs.
Shipping Dimensions: 9.25″H x 9.5″W x 12″D
Shipping Weight: 7.75 lbs.
Sound Level: 65 dbA
Vacuum Range: 50-550 mmHg*
Operating Flow Rate: 0-27 lpm*
Electrical Requirements: 100-240 VAC, 50/60 Hz, 0.75 A
Power Consumption: 33 W maximum
Approvals: IEC 601-1, CAN/CSA-C22.2 No. 601.1-M90, CE EN 60601-1-2, UL2601-1, ISO10079-1:1999
Operating Temperature Range: 32°F-104°F
Operating Relative Humidity: 0-95%
Operating Atmospheric Pressure: 10.2-15.4 Psi (70-106 kPA)
Operating Mode: Intermittent: 30 min. ON, 30 min. OFF
Collection Jar Capacity: 725 ml
Battery Use: Up to 1 hour when fully charged
Warranty
Suction Unit: 2 years limited
Internal Battery: 6 months